Agalas' vision for the future
As a newly established Norwegian shipowning company, we are positioning ourselves to be a preferred and recognised vessel owner in the offshore industry. Our main goal is to deliver a combination of lean and reliable management together with purpose-built offshore vessels, prepared for zero-emission technology, developed together with our clients.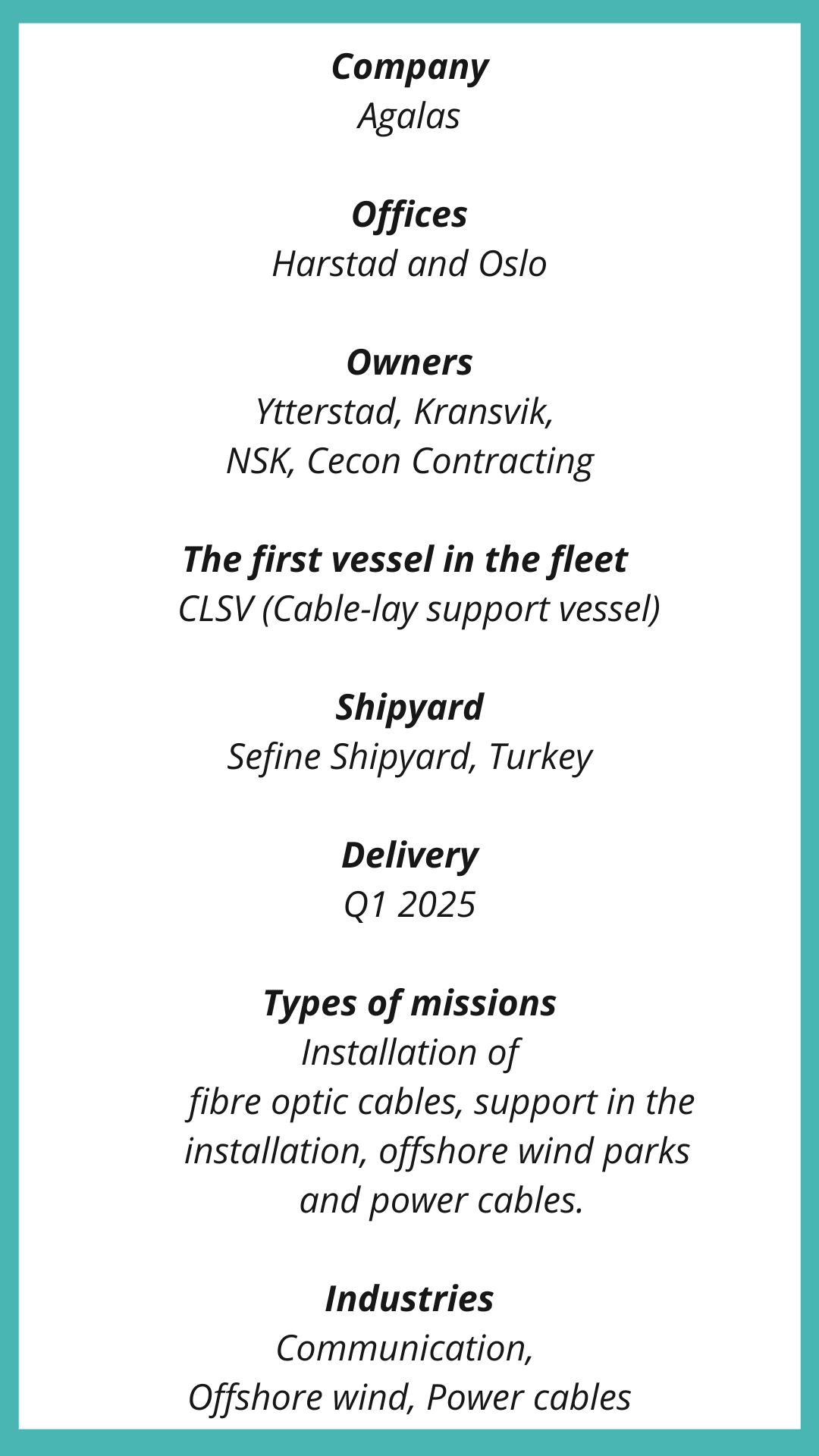 With a ship currently under construction and plans for additional vessels, we are dedicated to designing and operating vessels that are both functional and energy efficient – satisfying all client's requirements. 
Partnerships for growth
With our owners; NSK Ship Design, Ytterstad Fiskeriselskap, Kransvik Kystfiske, and partner Cecon Contracting, we have created a unique center of expertise which is necessary for the success and development of the new company. Together we combine decades of experience from operating/management vessels with an in-house world-leading engineer competence, to be utilized both in the process of developing new vessels and also under operation.
The Arctic Legacy
We are immensely proud of our arctic heritage, which Agalas is founded on. As a company operating in the Northern Norwegian Arctic shipping and maritime industry, we have gained extensive "on-the-sea/ground" experience that has continually refined our designs and operating procedures to meet clients' rigid requirements. From developing updated safety procedures to improving crew training, we continually strive to design and operate robust and green vessels that excel in harsh and varying market conditions.
Our first project
The first vessel designed by NSK Ship Design will be built by Sefine Shipyard in Turkey and delivered in the first half of 2025.
The ship will be specially designed to install fiber optic cables with enough versatility to also perform W2W duties and varying subsea tasks for our client. Cecon Contracting, who have contributed through the whole design phase, and accordingly secured the right to charter the vessel upon delivery, with three years firm and two yearly options.
We believe there are significant opportunities for growth going forward for a new and reliable Norwegian offshore owner. Especially considering the high level of demand for vessels in all offshore segments for the first time in decades. The supply of "green" vessel alternatives are also short after years of low order-books. With the current market forecast, there is definitely a notable change in the market dynamics which we believe gives the perfect opportunity for a new vessel owner in the offshore market. 
As a company committed to sustainability and green technology, we believe that our new vessel and future projects will play a vital role in shaping the future of the shipping and maritime industry. With the support of our financially strong and experienced owners/partners, we have a solid foundation for success in the current market. We are incredibly excited about the future and the opportunities that lie ahead.